Story 8
A Japanese village – 1586
The old samurai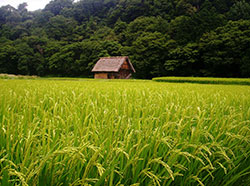 Japan.
"Oh, how happy the farmers are, how they sing while planting out the rice paddy," Kambei Shimada muses, sitting on the burial mound of the village. Four of his comrades are buried there. They are just killed in action. "In fact we are the losers, and the peasants are the winners."

Kambei is an old samurai, a fighter. Some poor peasants had begged him to help them. They were desperate, because they had heard that a bandit gang would come to loot their village after the harvest.
Kambei didn't want to. He felt old. And, moreover, to protect a village is not all that simple. To protect is more difficult than to attack. You need at least six, seven samurai. How to find them quickly? Because peasants are poor, they cannot pay anything, other than a few bowls of rice per day. There is also not much honour to gain, because to fight for peasants is not particularly glorious.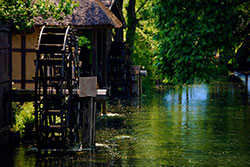 Japan.
But the peasants kept on urging him, and finally Kambei agreed. He even succeeded in finding six other samurai to assist the peasants. The fight against the bandits was not easy. The peasants were terrified, but the samurai gave them a tough training, and in the end there were four groups with long bamboo spears to protect the different sides of the village. The women also had big bamboo spears to fiercely attack the bandits, who nonetheless succeeded in entering the village.
Finally the bandits were defeated, thanks to the wisdom of Kambei, the bravery of the other samurai, and the immense fury of the peasants.

"Well," Kambei smiles, "this time it was the other way around. We didn't attack peasants by order of a landlord because they didn't pay their taxes or to perform compulsory services, but we have protected them. Perhaps this was the most beautiful fight in my life as a samurai, even though we have suffered heavy losses."
_______________________
Source
The feature movie Seven Samurai (1954) from the Japanese director Akira Kurosawa is a splendid action film, which at the same time shows the misery and the anger of the medieval peasants.
Go to:
= the next page:
Simplicissimus - a forest in Rhineland-Palatinate, Germany – about 1630
, story 9.
= the
Table of contents
, story 8.