Story 110
West Bengal, India – around 1950
The zamindar takes the land of a peasant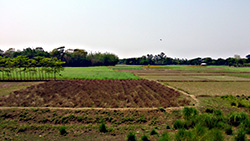 West Bengal, India.
In a loud voice, the magistrate of the court reads the judgment: "Accused Shambu Mahto has to repay his debt of 235 rupees within three months. When he fails, his land will be auctioned."
Shambu cannot believe his ears. He runs to the railing and shouts to the judge: "I will never be able to pay this. I am a poor peasant. I have an old father, a wife, and a young son. When you take away my land, we will have nothing. We will die of hunger." He bursts into tears. Firmly, the court's guard takes his arm and pushes him out of the court-house.

Later on, Shambu sits at the border of his field. His wife brings him some food, but he cannot get it passed his lips.
His debt to the zamindar (the big land owner and also moneylender of the village) is not 235 rupees, absolutely not. Yes, it is true that he received five sacks of rice during the famine last year. But his father worked for it a whole year in the date garden of the zamindar. The bookkeeper did not note it in the cash-book and also has also did not give him receipts. That's why he was floored in the court.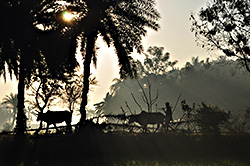 West Bengal, India.
For God's sake, how could he gather 235 rupees? He is a poor peasant. In his whole life, he has never seen 50 rupees together. He owns only a small piece of land, only two bigha (0.7 acres). Already seven generations have lived from this land. And now he would lose it because the zamindar wants his land to build a factory on it? He will not allow it. Never!

What can he do? Perhaps his neighbour is right. The only thing he can do is go to the big city. He is ready to try his hand at anything. He will become coolie or rickshaw puller. Day and night, he will work like a horse for three months. With the help of God, he will be able to save his land.
_______________________
Source
Do Bigha Zamin (Two Acres of land or Calcutta, the Cruel City) (1953) is a feature film of the Indian director Bimal Roy. It portrays the happiness and grief of peasants. Roy also shows how hard the life is in Calcutta (Kolkata) for poor peasants who migrate to the city. He focuses on injustice but also shows the friendship and support the poor give and receive. Nice songs cheer up the movie.
Go to:
= the next page:
'The most beautiful land in the whole country' - a little village in Kenya – 1950
, story 111.
= the
Table of contents
, story 110.