Story 157
River Inguri, Georgia/Abkhazia – 2014
Temporary island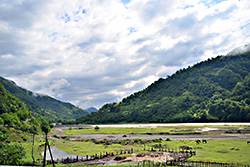 Georgia.
"This winter we will not be hungry," he tells the girl in a satisfied manner as she is cleaning, salting, and hanging the small fish to dry. The autumn sun is warming the old man on the bank in front of the wood cottage. Everyone calls him 'babu,' grandpa. It is true; he must be getting old. This year he was still successful again. He was in time to claim an island in the river, to build a cottage on it, to dig up the land, and to sow corn. Now the plants are man-sized. The ears are thick.

This year he wasn't alone. His granddaughter stayed with him whenever she didn't have to go to school. She is already brave. She doesn't say much, but she helped a lot in watering plants in the summer heat, in roasting the fish which they had caught in the wicker fish-trap in the river, and in picking up things from the farm. Soon, she will help in harvesting too.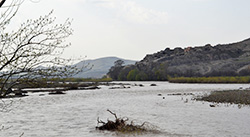 Georgia.
Every winter, the river brings a few new islands. The earth there is soft, but fertile, so fertile! It is a lot of work to build a cottage, dig up the land, and water the plants. You also have to protect the island against animals who will destroy your harvest, or against bad people.

Life is good here – the birds, the fresh air, the dashing water, and the promise of an abundant harvest. However, you must be lucky to get in the harvest in time, before the autumn storms are coming, and the autumn flood inevitably washes away the islands only to bring them back next year in different places. Fortunately, it is almost time to harvest.
_______________________
Source
In Corn Island (2014) the Georgian film-maker Giorgi Ovashvili portrays the peasant life on a small, temporary island in a river. With few words, quiet, and impressive images he tells the simple story.
Go to:
= the next page:
Happiness and sorrows - Pakistan – 2014
, story 158.
= the
Table of contents
, story 157.