Story 143
A village in Burkina Faso – 1990
Rolling in money
Burkina Faso.
"I never want to see him again," Saratou had said quietly right after giving birth. Samba, her husband, had run away into the bushes when she was brought by a truck to the city to deliver their child. What sort of caring husband would act like that! He had said to Binta, one of the neighbours in the truck, "I don't go to the city. No, I won't give an explanation." Then, he took off. His friend Salif had run after him, shouting, "You idiot, come back!" But Samba was already out of sight.

The delivery had gone well. Saratou now had a healthy boy. Everyone should have been happy, but the atmosphere was tainted by Samba's departure. What was going on with Samba? Saratou had already been worried about him. He had come back after working for some time in the city. He appeared to be rolling in money. Samba threw around his money, buying a whole cattle herd for the village and paying to construct a village pub. He purchased a bicycle as readily as someone else might buy a t-shirt.
How did Samba acquire so much money? Of course Saratou had asked him."I worked at a banana plantation." he had said. "If that were true, everyone here would be rich," she had answered. This response had made Samba defensive. "I love you. Isn't that enough? Never ask me questions about my wealth!" he barked.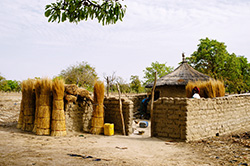 Burkina Faso.
Today, a jeep with three policemen arrived in the village to arrest Samba. Salif ran to Samba to tell him to flee. They ran away together with the three policemen at their heels. One of the policemen shot Salif in his leg, and Samba stopped to help his friend. This allowed the policemen to arrest him.
Samba had robbed a gas station. During the robbery, his accomplice was killed, but Samba had fled with the money. In fact he is happy that he is finally caught. Every night when he tries to sleep, he pictures his dead friend lying before him. His own wife distrusts him and his father looks anxiously at him. Rather than welcoming him back into his household.

Upon arrest, two policemen bring Samba to their jeep in handcuffs. With tears and regret in his eyes, he looks at Saratou, who was standing there with their baby boy at her hip. "I will wait for you," she says.
_______________________
Source
The movie Samba Traoré (1992) from film-maker Idrissa Ouédraogo from Burkina Faso shows the unity and vibrancy of a small, remote village in the savannah. Sometimes, villagers go to the city for a while to earn money and then come back out of hardship.
Go to:
= the next page:
Hunting festival - Bihar, India - 1992
, story 144.
= the
Table of contents
, story 143.