Story 140
A village in Burkina Faso – 1989
Sana, a witch?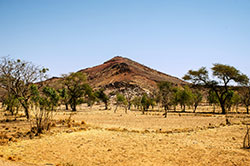 Burkina Faso.
They are inseparable, Bila and his cousin Nopoko, both about ten years old. But now Nopoko is ill, gravely ill. Her mother at first thought that it was a bout of malaria, but now it appears to be more serious. The men ask a sorcerer for his help. He requests an absurdly large sacrifice. But even that doesn't seem to work. Everyone is desperate. Village life is at a standstill. Everyone expects Nopoko to die soon.

Bila has to do something, to save his best playmate. He cannot imagine a life without her. But what can he do, when the adults are helpless? The only thing he can think of is seeking out Sana for help. Sana is a very old woman, an outcast. She lives outside the village in an isolated hut, and everyone calls her a 'witch'. But why? Bila doesn't understand it. Sana is kind. A while back, Sana joked with him, when he was playing hide and seek with Nopoko in the bush. Ever since then, they are friends. Bila calls her Yaaba, grandmother. Sana is delighted with that. "You are the first one who calls me Yaaba."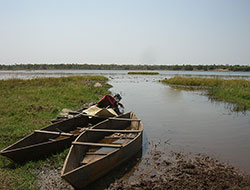 Burkina Faso.
When the adults aren't paying attention, Bila slips away and runs through the bush to the hut of Sana. "Yaaba, Yaaba, Nopoko is dying. Please, help her!" "I can't," Sana answers, "I don't have magic power." Tears come into Bila's eyes. Usually he would quickly wipe them away, but now he doesn't care.
A moment later the old woman puts on a warm shawl, and pours water in a big calabash. "I will help you," she says softly. Then she is on her way. Bila follows her with his eyes. Far away, at the riverside, he sees her getting into the row-boat of the ferryman. Where's Yaaba going? Is she going to look for herbs, or does she perhaps know a good healer? At least she is helping him, and trying to save Nopoko, while in fact the other adults already have given up on her. Now, Bila knows for sure that Sana is not at all a witch, but a real grandmother.
_______________________
Source
In his beautiful movie Yaaba (1989) Idrissa Ouédraogo, director from Burkina Faso, portrays the life in a remote savannah village frozen in time.
Go to:
= the next page:
Mayor Duong - a small village in Vietnam – 1989 (2)
, story 141.
= the
Table of contents
, story 140.