Story 40
A village in Flanders, Belgium – 1907
Weeding the flax field
Flanders.
It is May, it is already becoming a bit warmer, dawn is coming earlier, and then the birds start singing like their lives depend on it. Schellebelle, a young stable-maid with ruddy curls and pale pink skin, works already several years at a big farm. She takes care of the cows. Actually her real name is Rina, but because she is always singing and joking, and laughs often and loudly, she is called Schellebelle, Jingling-bells. This year she will take part in the weeding of the flax field for the first time. From the other maids she has heard how pleasant that is.

Finally the day has arrived. A few days ago the farmer's wife passed by all the little tenant farms and huts in the neighbourhood, and asked for all the girls and women to come. Before daybreak, they go to the farm. First they get bread with coffee, and then they all walk together to the vlaschaard, the flax field. The girls are excited and cheerful, and as usual, Schellebelle can be heard laughing above everyone else. On their knees they crawl together in a straight line across the field, and pull out every blade and leaf that should not be there. Soon, an older woman starts singing. It is about a knight, whose eye had fallen on a simple peasant girl, but she didn't give in to him, "I am born to work." After this song, many others follow, about happy and lost loves, werewolves, the devil, accidents, funny events, and murders. Everything is treated in turn. Schellebelle listens eagerly, not to miss any word.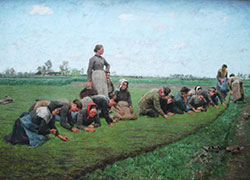 Flanders.
At midday the little bell of the farm rings, and everyone goes there to eat. Then, there is an hour and a half break to rest, or for the girls to chatter. After that there is coffee, and then everyone goes to the vlaschaard again. They are glorious days. Schellebelle enjoys them to the full. When the weeding is entirely over after a day or five, her head is spinning from all she has heard.
_______________________
Source
The splendid novel The Flax-field (1907) from the Flemish writer Stijn Streuvels describes in detail the country life in Belgium of a century ago.
Go to:
= the next page:
First farm-maid, then woman farmer - a small mountain village in Austria – around 1910
, story 41.
= the
Table of contents
, story 40.