Story 34
Flanders, Belgium – about 1900
Peasant Nand on his deathbed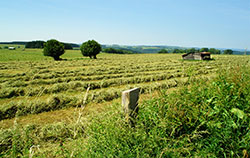 Flanders.
"Yes, Nand, my boy, there you lie, quite alone on your bed." The old peasant on his deathbed is awaiting the helper who will look after him, and looks around the room. Then he dozes off. In his half-sleep it is Sunday afternoon, and he walks around on his land to see how his crops are doing. True, he hasn't been a big farmer, he only had a small piece of land and just one cow. But he has enjoyed seeing the little piglets with the sow, the rape-seed with their vivid yellow flowers, the blushing apples in the orchard, the sun going down in an orange blaze.

When Nand wakes up, suddenly he has to smile remembering how he has once messed around with the daughter of the cobbler. He still recalls how she smelled of shoemaker's wax. He was still young at that time, not yet married. Later on he got acquainted with Wanne. He still smells the fresh scent of soap of her arms. Together they have had three children. He remembers how his dear little daughter Bertha smelled of cream, even when she was once very ill. He had been very concerned, but he shared his worries with Wanne.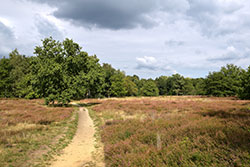 Flanders.
Again Nand wakes up for a bit. The helper has not yet arrived. Again he sinks away in a state between sleeping and waking. In his mind he sees how he ploughs his field. He feels how smooth the handle of the plough has become over the years. And he feels how rough the coat of his dog is. Then he has to think about Wanne, how she has died. He feels in his right thumb and forefinger how he closed her eyes. When everyone went away after the funeral meal, he was lonely, so alone.

Without opening his eyes Nand feels how Wanne stays beside his bed. She undresses, and kneels down for the evening prayer. Nand prays with her: "Our Father who art in heaven." Then Wanne climbs into bed. From now on she will always be with him. Nand opens his mouth to say something, but sinks away in the depths.
_______________________
Source
The short story De boer die sterft (The peasant who dies, 1918) written by the Belgian author Karel van de Woestijne describes in beautiful Flemish how a peasant looks back on his life.
Go to:
= the next page:
Famine - Anhui Province, China – around 1900 (1)
, story 35.
= the
Table of contents
, story 34.