Story 25
New South Wales, Australia – 1879 (2)
Birth party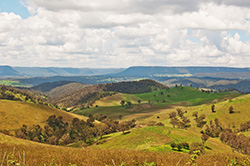 New South Wales.
"My sweetest girl, how happy I am! Yesterday morning your aunt Kate came running with a telegram from America that you are born, safe and sound. I cried out loud for sheer joy, I got on my horse, and emptied both my revolvers into the air. My mates were surprised, but when Kate called to them that I just had become a father, they started galloping around me, singing and shouting.
A girl from a little pub got on her pony to spread the good news all around. It was cold weather and the poor farmers really could not leave their pigs and cows alone, but still they came to party with us. As night fell, they started six big bonfires, and we all sang Irish songs together. Even when the alcohol was finished, they didn't want to leave. That's just how people are around here, my darling, dirt poor, but through and through good and warm-hearted."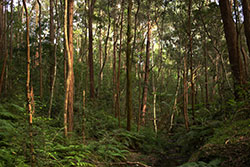 New South Wales.
"Since I am writing you, I want to tell you something. The newspapers write that I am a dangerous criminal, a murderer. But that's not true. I have killed a few police officers, but only because they were out to kill me. Only in extreme cases have I killed, when I really couldn't avoid it.
Because of false testimony by a police officer, who had it in for me, I had to run away from your grandma's farm. With your uncle Dan and a few friends, I started a secret farm in the bush. But there, also, the police didn't leave us alone. Finally we had no other choice but to rob a bank to get money. But I swear nobody got a single scratch during the robbery. With that money we helped several poor families, and since then the poor people help us to hide from the cops."

"With the bank money your mother has paid her passage to America. She was pregnant with you, and she was terrified that something would happen to you. I myself could not leave, because your grandma has been jailed, even though she has done nothing wrong. Just to catch me. I cannot leave her alone, she is my mother. I have to stay close to her. But as soon she is released, I will come to America together with her. Then we will finally meet at last."
_______________________
Source
In his thrilling book True History of the Kelly Gang (2000), the Australian writer Peter Carey brings the farm hand, peasant and folk hero Ned Kelly to life.
= part 1:
Almost drowned - a village in Victoria, Australia – 1866 (1)
, story 22.
= the next page:
The crossing - a river in Iceland – 1879
, story 26.
= the
Table of contents
, story 25.