Story 166
A hamlet in Afghanistan – 2016
Wolves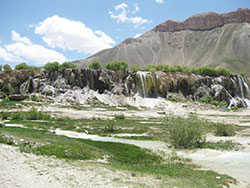 Afghanistan.
"No, no, come here, you have to do it differently." Quodrat, an eleven-year-old boy, takes the cord that Sediqa is plaiting, puts the loop around his big toe, unravels the last part of the plaiting, and plaits it once again. Sediqa sighs. She is the same age as Quodrat, and she really wants to have a sling, just like the boys; but first she has to have a nice, long, and well-plaited cord. Luckily Quodrat wants to help her. Meanwhile they can also chat a bit.

Every morning a group of children from the village takes the sheep and goats to the mountains to graze. That's quite strenuous work, walking up and down the slopes, in the scorching heat. The girls also collect dung in their back baskets, which the village women use for fuel. But the children have a lot of time to talk with each other, to swim in the river, and also for mischief and quarrels.
Meanwhile, they have to keep an eye on their animals, so that they will not wander off too far, because there are plenty of wolves in this area that would like to eat some mutton. When a goat or a sheep has been killed, the children will get a beating, because the parents have to pay a compensation to the family that owns the animal. And every family is short of money.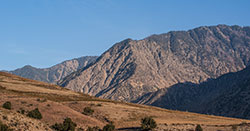 Afghanistan.
Working on her sling, Sediqa says: "That was a thrilling story Haji Ahmad was telling yesterday evening. I have dreamed of it." Quodrat nods: "When we are a bit bigger, we will go together to the mountains to look for the Kashmir wolf. But you have to be quite good at slinging, at least as well as I do." "Would you dare do that?" Sediqa asks. "The Kashmir wolf is as big as a large man, and it walks on his hind legs. It will kill us with one blow of his claws, and gobble us up. That is what Haji Ahmad has told us. "But inside the pelt of the wolf is hidden a beautiful yellow-green fairy. I want to see her, don't you?" Quodrat answers.

Suddenly Sediqa leaps up, because she hears a soft howling in the distance. Quickly she looks all around for where her sheep and goats are.
_______________________
Source
The movie Wolf and Sheep (2016) made by the Afghan director Shahrbanoo Sadat portrays nicely the life of village children in a harsh environment.
Go to:
= the next page:
The old bull - a village in Ningxia province, China – 2016
, story 167.
= the
Table of contents
, story 166.