Story 100
A village in Senegal – 1942
The nightmare of Efock
Senegal.
In the village Efock people don't sleep well. They suffer from nightmares. Over and over they scream in their sleep. Over and over they see how the white man with the pith helmet gestures downward with his hand and orders, "Fire!" Over and over they see the men fall down.

Last year the village Efock received word that they had to surrender their entire rice harvest to the French. Everything. Everyone was outraged. The women hid the rice. The village elders met together, and offered a sacrifice to the village god Emitaï. Then a group of African soldiers under the command of a white, French officer surrounds the village. The men of the village attack the soldiers with spears and bows, but they are not able to deal with them, because the soldiers have guns.
The soldiers drive all women to the village place. There they have to sit down in the blazing sun, until they hand over the rice. But they don't do it. They sit there with their little children, a few with a baby. Sometimes they sing together. Two boys, about eight years old, bring them some water in big calabashes. The white man allows that. Evening is coming, and then night is coming, but the women don't hand over their rice. That's why they have to remain seated.
The village elders assemble again, offer a bigger sacrifice, and beg Emitaï to sweep away their enemies.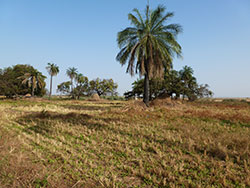 Senegal.
Next morning, the French officer is at his wit's end. "All other villages gave the rice," he has translated to them, "only you don't." He orders his soldiers to shoot at anything that moves. When the two boys arrive again with water, a soldier shoots one of them to death. The women get up screaming. They don't care about the order to stay seated; they bring the dead boy to the burial ground, and start singing and dancing there.
The village elders decide to surrender the rice now, to prevent further escalation of the conflict. But the officer is so angry that the women didn't respect his order that he has the men placed in a row. Horrified, the women see that the white man with the pith helmet gestures downward with his hand and orders, "Fire!" Some crackling gunshots are heard, and then the men fall down, one by one. Fourteen. They are all dead. That's the nightmare of Efock. The nightmare that returns over and over, that never will disappear.
_______________________
Source
The movie Emitaï (1971) made by the Senegalese director Ousmane Sembène gives a view of an African village in the colonial era.
Go to:
= the next page:
Remorse - a village in Belarus – 1943
, story 101.
= the
Table of contents
, story 100.