Story 120
French Alps – 1960
'First they take your land and then your children'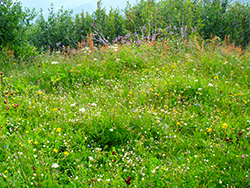 Alps.
"First they take your land and then your children," her father had cried although he never shouted. He was quite the opposite. He liked joking, winking at her. But the factory was his 'enemy.' When he heard his wife saying that Régis, their oldest son, should start working at the factory, he exploded.
Odil's father was the only one who had refused to sell his land and farm to the factory. This meant that they were now entirely surrounded by enormous smelters, giant factory buildings, and heaps of slag from the mining operations. The factory waste became its own mountain, growing higher and higher. Although the company doubled and even tripled its offer for the land, her father would not sell the farm. "I don't sell my heritage," he used to say.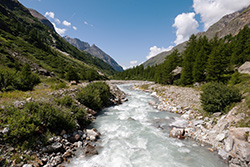 Alps.
Each year, an engineer came to the village school and drew some mountains and a river on the blackboard. He drew their mountains and their river! He drew the dam and its reservoir to explain how hydroelectricity was generated. He described it as 'white gold'.
Only a few boys of the village wanted to work for this company, so it had to hire labourers from Spain, Portugal, or anywhere with willing, able-bodied young men. Once Odil went there to look around and became friends with Stepan, a Russian guy. He was nineteen years old, a little bit older than she. "The furnaces are a thousand degrees," Stepan had told her. "When you empty a furnace, you have be careful where to position yourself. One step too close, and the furnace will scorch your hair. One step too far, and the icy wind of the mountains will freeze you. Odil and Stepan loved to be together.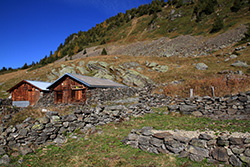 Alps.
One day Odil went to visit Stepan. The workers she knew gave her a strange reaction. They refused to look at her, walking by with their heads towards the ground. Nobody wanted to say anything until an Italian named Giuliano arrived. He told her that Stepan had died. Odil asked to see him. "Niente," Giuliano shouted with tears in his eyes. Later on, she learned that Stepan had been poisoned by the toxic fumes of the furnaces. He became disoriented and fell into the boiling metal. His body was consumed by the furnace, and nothing was left of him.

Odil had moved to a small city nearby. She lived in a room there and worked in a metal factory where she punched holes in small plates which were affixed to the back of radios. She punched 1,700 holes a day. She went to the farm on most weekends. By this time, her father had died, and her mother had sold the cows. Now, there were only goats and chickens. The trees in the orchards had died. The heaps of slag had piled higher. Odil helped to cook marmalade and to can beans from the kitchen garden. She fed the chickens and milked the goats. As she did this, she would see her father in her mind. He would be winking at her.
_______________________
Source
The book Once in Europe (part 2 of the trilogy Into their Labours – 1987) of the English writer John Berger contains a series of short stories about the peasant life in the small French mountain village where Berger has lived since the middle of the seventies.
Go to:
= the next page:
The sly muhtar - Taurus Mountains, Turkey – around 1960 (1)
, story 121.
= the
Table of contents
, story 120.