Story 13
A village in Berry, in the centre of France – around 1792
Little Fadette chuckles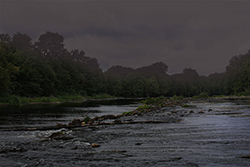 Centre of France.
"I should have left earlier," Landry, a sturdy young farmer, realises. He breaks out in a cold sweat. The water of the small river is deeper than he had thought. It is already dark. He is not sure where to cross. He did try it already, but was soon waist-deep in the cold water. Across the river he notices some light from the little house of Grandma Fadet. "I have to head for it," he tells himself.
But suddenly, the light is behind him, and then to the left. The little light is dancing up and down, as if to make fun of him. "I have to leave here, away from that will-o'-the wisp. I just step into the water; here should be the ford." A few moments later Landry is standing up to his neck in the water, and the current threatens to pull him along with it. In a panic he turns around, and for a moment he goes under the water, but is able to reach the bank. Exhausted, he falls down on the grass. But there is the will-o'-the wisp again …

Then, Landry hears a girl's voice. That will be Little Fadette, the girl who lives with Grandma Fadet. She has just crossed the small river, and almost bumps into him. "It is only me," he says timidly, "I don't mean you any harm." "How nicely you talk, all of a sudden," the girl answers, "I know why, it is because you are scared to death, I hear it in your tone of voice. Probably because of that will-o'-the wisp. Come with me, hero, I will bring you across to the other side."
Actually Landry wants to turn down the help of Fadette, but the thought of spending the whole night alone with that will-o'-the wisp terrifies him too much. Soon he crosses the small river with her. She knows exactly where to step, and pulls his hand with her. Soon, they are on the other side.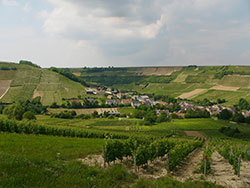 Centre of France.
The family of Landry is rich, and that of Fadette poor. They have been at odds with each other for decades. But now, Fadette has helped Landry out. He is ashamed that he always been so arrogant to her.
– "Fadette, I'd like to thank you. You can ask me for whatever you want, and if it is possible, I will give it to you."
– "I don't need gifts from you, you don't even notice me."
– "Fadette, please, please …"
– "Okay, I don't need a gift, but let us agree that tomorrow at the village festival, you will dance seven times with me, and not with any other girl."
– "Agreed!" Landry answers, relieved.

Next day the whole villages talks about Landry. "Look at him, he danced constantly with that poor girl, from a bad family at that. He left alone his girlfriend Madelon, with whom he is almost engaged." Quietly, Little Fadette chuckles about it.
_______________________
Source
The French woman writer George Sand wrote the lovely novel Little Fadette. A Domestic Story (1849) about love and discord in a small village.
Go to:
= the next page:
Land surveyors - Haiti – around 1835 (2)
, story 14.
= the
Table of contents
, story 13.