Story 131
A bush in Australia – 1971
A lizard on my arm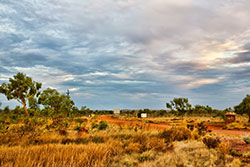 Australia.
What a pity that I can't understand them. I can't even pronounce their names. How did they end up out here in the bush? They can't explain it to me. But it doesn't really matter. That little white boy is funny. He finds awesome everything I do. And that girl, well, she is really something. I think she likes me. Sometimes I think … No, I should not think about it. I will bring them to the big road, and there they will find a truck. Then, they go back to their world, and I will stay here in my world.
But what if? … I am nearly a man. I am doing my 'great-journey-alone': alone I travel through the bush, I know where I can find water, I know how to make a fire, how to kill an animal and prepare it to eat. I know the land, I know the animals, I can talk with the spirits of our ancestors, and ask them for help. Why should I not marry that girl? She seems to be about my age. Perhaps, I should perform the nuptial dance for her after all? I am sure she will understand it …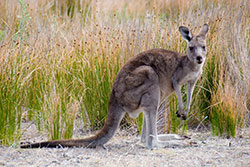 Australia.
How lucky that that black boy found us! Otherwise we would have died of thirst. That stupid accident with our car. Imagine, in the middle of the bush. I was alone with my little brother. We had nothing to eat, during the night it was freezing cold, we had no water. Then, that boy found us. He is funny. He sings beautifully, though I don't understand a single word of it. He can run fast, and kill a kangaroo with his spear. He always knows where to find berries or other fruits. My little brother worships him. He mimics everything he does. He even can speak a little with him.

Actually, it is wonderful to be here. Thanks to that black boy, whose name I can't pronounce. He has painted a beautiful lizard on my arm, and a cockatoo on the back of my little brother. But still I am longing to get back to Sydney. Why? I don't know …
_______________________
Source
The poignant movie Walkabout (1971) from the English director Nicolas Roeg shows something of the life of a young Aboriginal hunter.
Go to:
= the next page:
Impossible plans - a nature reserve in Wyoming, US – 1973
, story 132.
= the
Table of contents
, story 131.