You are here: CHRONOLOGICAL
A small Japanese island – 1954
The sea god favours them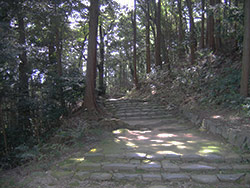 Japan.
Radiant with happiness, Shinji and Hatsue climb the long stairs together. Two hundred stone steps lead through a forest to the top of a mountain on the island of Uta-jima, where the altar stands for Watasumi no'Mikoto, the sea god. Shinji is a young eighteen-year-old fisherman. He has a big, still-alive sea fish in his hand. His face is already a bit weathered by the sun and the sea breeze. Hatsue, a bit younger than Shinji, is a diver. Her face is also tanned, but her skin is smoothed by the sea water.
Both of them have so much energy that they could run up the stairs all at once, but this time they prefer to walk quietly, hand in hand, to enjoy their happiness all the more intensely. Halfway up they look out across the bay. In the sky float a few white clouds, and the water is deep blue. Both say nothing, but they think the same: our island is the nicest place on earth.
When they come to the top and stand in front of the altar of Watasumi, Shinji claps his hands to let the sea god know that two worshippers have arrived at his shrine. In silence he begins thanking the sea god for all the happiness he has granted them. Hatsue prays with her head bowed so deeply that Shinji sees her brown neck and has to swallow.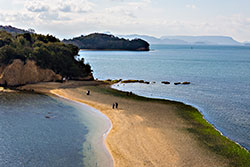 Japan.
Her life hasn't been easy, Hatsue reflects. When she was still young and her mother died, her father sent her to family members on another small island. There she learned to dive for sponges to contribute to the family income. When her father grew old and the other children left home, he brought her back to Uta-jima. There she met Shinji, the tough but modest young fisherman. It was love at first sight. Both wanted nothing more than to marry as soon as possible, but the father of Hatsue didn't even want to hear about it. He had set his sights on a young man from a well-to-do family.
Nasty gossip in the fishing village, outbursts of anger from her stubborn father, a ban on leaving home, except when Shinji was fishing, and rivers of tears have been Hatsue's experience the last year. When she became more and more pale and weak, her father started to have doubts, and when in a village quarrel the boy from the well-off family turned out to be a liar and a weakling, and Shinji honest and selfless, he finally gave his consent.

Shinji knocks on the window of the small priest house, presents the fish to the priest, and asks him to offer it to the sea god to thank him, and to ask for happiness in their coming marriage.
_______________________
Source
The short novel The Sound of Waves (1954) of the Japanese author Yukio Mishima describes in detail the fishing life on a small island, and is at the same time a moving love story.
Go to next page:
Class analysis - a small village in Vietnam – 1955 (1)
Go to:
last published overview