You are here: CHRONOLOGICAL
Fontamara, a village in Abruzzo, Southern Italy – 1928 (1)
Priest or donkey?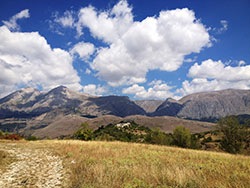 Abruzzo.
Early morning at four o'clock Berardo took a glass of wine and set off, with his shovel on his shoulder. Along the way he chewed on a piece of corn bread. His expression was angry. He didn't take the mountain path to the plain, like on other days, when he went working as a farm labourer. He took the mountain path, which was going up.
"Don't waste your words on city people. They only make fun of you", he growled to himself. "You better let them feel how you think about them."

For the last forty years there was no priest in Fontamara, the village where Berardo lived. Most of the year the church stood empty. Only a few times a year, the priest of a nearby town came to celebrate a mass, baptize children and to give a religious blessing to a few marriages. Recently the people from Fontamara had composed with great difficulty a petition to ask for a priest and sent it to the bishop. They didn't expect much of it, but you have to try it from time to time, otherwise the bishop would forget you completely.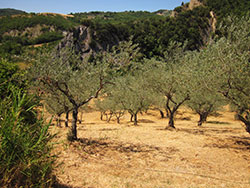 Abruzzo.
To their immense surprise the villagers from Fontamara got a letter back, that they would get a priest. They had not counted on it at all. Quickly they cleaned the church thoroughly and repaired the road. They made a beautiful triumphal arch with a lot of greenery and colourful banners. On the day in question they went in procession in the direction of the town to receive the priest in a dignified manner. Alternately they sang religious songs, or recited prayers together.

When the villagers saw in the distance a group of townsmen coming, they went to the side of the road to welcome their new priest. When the crowd came nearer, they were astonished that the townsmen were so rowdy. Suddenly they saw that a donkey walked in front of them, which was driven by strokes with a stick and by stones. The animal was wearing a sort of black cloth and a black hat, as if it was a priest. How the townsmen had to laugh when they saw the surprised and later on indignant faces of the Fontamara villagers. They shook with laughter.
Abruzzo.
Shocked, the peasants and farm labourers walked back to their village. Berardo was not shocked, but furious. He would let them feel it, those bastards. Every time they ridiculed villagers.

Next morning Berardo set off early, with his shovel on his shoulder. During the day the water supply of the town didn't function properly any longer, and later on it stopped. After investigation, it became clear that all the water pipes from the mountains to the town were broken.
_______________________
Source
The book Fontamara (1933) written by the Italian author Ignazio Silone accurately describes village life at the time the Mussolini fascists came to power.
Go to next page:
Land reform in reverse - Fontamara, a village in Abruzzo, Southern Italy – 1929 (2)
Go to:
last published overview