You are here: CHRONOLOGICAL
A village on Java, Indonesia – early sixteenth century (1)
Decline of the empire
Java.
"Why do you pay taxes to the Adipati (ruler) of Tuban? What do you get in return for it? Challengingly Rama Cluring looks around in the village hall of Awiskrambil. When nobody answers him, he continues: "Nothing at all. He will buy elephants for it. He only thinks about commerce and gold. He will bring you all down. Stop paying taxes!"
Then the criticism bursts out. "This is treason, this is revolt," shouts the village head. "The Adipati is ruler by the grace of Hyang Widhi (the supreme god)" cries another one. "Go telling it in Tuban," screams a wife. And another: "My dear guru (teacher), when a guard of the Adipati hears you, he will drag you into court."
Rama Cluring sits motionless like a statue, with his white eyebrows, white mustache, white beard and white headband, and both his legs folded under himself. Then he lifts his right forefinger and all the audience become quiet. "It will not be the first time that the truth will be brought before the court," he starts calmly, almost icily. "But we all know that the truth comes from Hyang Widhi. Truth cannot be judged. I speak in the name of Hyang Widhi and I speak the truth, nothing else. That is my duty."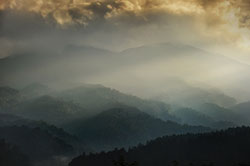 Java.
Rama Cluring is one of the many teachers who travel from village to village to speak to the people in the shadow of a big tree or in the village hall. "I will explain it to you once more," he goes on, more friendly now. Then he starts telling about the golden age of the Majapahit empire with its visionary mahapatih (prime minister), Gajah Mada. He describes how later on the empire was undermined from inside, also by the Adipati of Tuban, and how it has crumbled into small principalities which are out for each other. Therefore they are an easy prey for the Peranggi (Portuguese), who are just at the point of bringing under their control Java and the other islands.

"The Adipati of Tuban has brought us prosperity and calm. Our children can grow up in peace", puts in one of the villagers. Rama Cluring reacts furiously: "If the decline is not halted soon, and if you do not regain your sense of justice, and your self-respect quickly, a fire storm will spread death and destruction. That will happen sooner than you think now."

Idayu nudges her friend Galeng and whispers "The guru has right." But Galeng doesn't hear her, because he is absorbing the words of Rama Cluring so intently. "To restore the Majapahit empire, that's what we have to do," he murmurs to himself.
_______________________
Source
The book Arus balik (The current from the north, 1979) written by the Indonesian author Pramoedya Ananta Toer is a great history novel about the early sixteenth century. A few passages depict the village life.
Go to next page:
Challenging the sovereign - Tuban, Java, Indonesia – early sixteenth century (2)
Go to:
last published overview