You are here: CHRONOLOGICAL
Gaomi District, Shandong Province, China – 1985
'Take me back'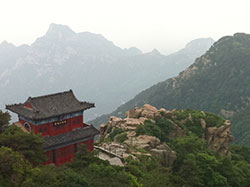 Shandong Province, China.
With a friendly, but also a bit mocking smile the ghost of my grandmother looks at me. I sit on my knees before her burial mound. I make three low bows with my head flat to the earth, and I smell the fresh fragrance of the grass and the yellow flowers which stay on her grave.
"What do you see, my grandson?" asks grandmother, holding a brass mirror up to me. "Well, do you see a tame rabbit, or not?" She laughs merrily, chuckling musically. When I look in the brass mirror, I see indeed two red eyes, like tame rabbits have: clever and cunning. Eyes, just like I see too often around me in the city: shrewd, sanctimonious, and greedy.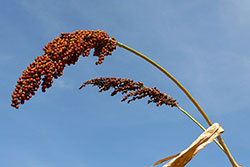 Red sorghum.
"My grandson, come back to where you belong," grandmother pleads. Her eyes look hopefully at me. How beautiful she is, even more beautiful and younger than I had imagined. "But first you must have a good wash in the river. You have to soak there for three days. Your urban body odor is unbearable." I know it, I am as weak-willed, as sanctimonious, as self-satisfied as all the other people in the city where I live.
Then I see also the ghosts of my father and grandfather. They look at me sadly and longingly. "Take me back," I sob out. "Take me back, Northeast Gaomi!" Northeast Gaomi, region of heroes and bandits, of the blood-red, proud, more than man-sized sorghum, of endless sorghum fields, vast as the sea, with that bittersweet fragrance, floating through the red evening sky. "Take me back!"
_______________________
Source
The book Red Sorghum (1986) from the Chinese writer Mo Yan tells the story of the bitter fight against the Japanese occupiers in a remote peasant region. The struggle between the Quomindang, the communists and the local gangs of bandits is no less violent.

Go to next page:
The garlic rebellion - Shandong Province, China – 1986
Go to:
last published overview