You are here: CHRONOLOGICAL
Anhui Province, China – around 1900 (1)
Famine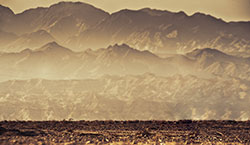 Anhui Province, China.
Wang Lung really doesn't know what to do. There is nothing to eat at home anymore. How will his old father, his wife, and his two children survive?
This spring it has not rained, not even a drop. The wheat harvest has withered; planting rice was impossible. The stock of last year is used up a long time ago. Nothing is left of the food he has bought in the town for the silver coins he had saved.
O-lan, his wife, slaughtered his beloved bullock. There was meat on the table at last. But it was impossible for him to eat even a bite of it. The bullock was like his mate. Together they had ploughed the fields year after year.

What are these men doing here? Men in grey coats, men from the town. "We come to help you. These are difficult times for you, aren't they? We will give you money. Do you want to sell us a bit of land?" Wang Lung groans. His land is everything for him, but now he has to sell to rescue his family. But when he hears the price the men want to pay him, he becomes furious and chases them away. They didn't want to pay more than one tenth of the normal price!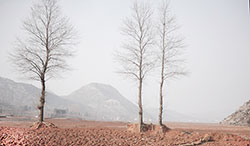 Anhui Province, China.
Later on O-lan addresses traveling buyers and sells them all their furniture. For much less then the real value. They will go south. They don't need furniture any longer, but silver coins all the more.
When they arrive in the small town nearby, a lot of people are hanging about. They talk nervously about 'fire vehicles'. Wang Lung has heard about them earlier but not yet seen them in reality. Now he and his family let themselves be dragged along with the crowd, and they succeed to getting in one of the railway coaches. Nearly all their money goes into buying train tickets. Only a handful of copper coins are left. They go south.
_______________________
Source
The American writer Pearl Buck describes in The Good Earth (1931) the life of a peasant family with only a small piece of land. Buck grew up in China, spoke the local Chinese language and studied also classical Chinese. The Chinese tradition of novel writing has shaped her stories.
Halfway through the novel the family becomes rich by chance. Wang Lung buys good fields and step by step becomes rich. Finally he becomes a big landlord. In one novel, you see an image of the life of a poor peasant, a rich farmer, and a large landowner who stays in the town and makes his living by leasing his land to peasants.
Go to next page:
Poor people in the big city - Anhui Province, China – around 1900 (2)
Go to:
last published overview